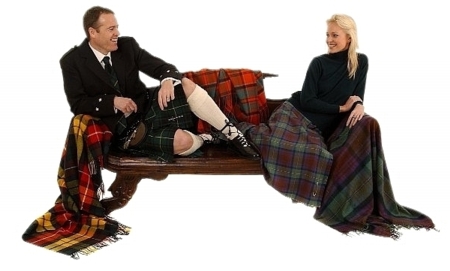 Welcome to Scottish Cousin!

Scottish Cousin is proud to offer custom-made kilts, kilt skirts, tartan neckties, tartan sashes, tartan blankets, shirts, jackets, and accessories for your Highland attire. Our products are made in Scotland, expertly tailored to your own measurements, and come from one of Scotland's finest mills. Your kilt will be made of the highest quality materials that will more than meet your expectations.
The Scottish Cousin 8 yard custom-made kilt for the gentleman is a hand-stitched and machine made garment available in worsted wool tartan fabric of your choice. We also offer a lovely selection of ladies custom-made tartan kilt skirts for every occasion. Last but not least, Scottish Cousin has the accessories to complete your Highland outfit.
To our Canadian cousins, even though we are US-based, we will happily ship to Canada without the duty charge as your shipment will come directly to your door step from Scotland.
Please send us an email if you do not find the item you seek in our website and we will locate it for you. We look forward to hearing from you.
Click here to find your tartan.